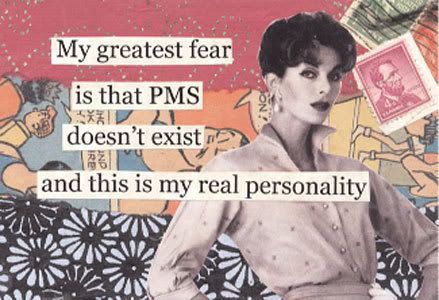 I've never counted properly before, but I've probably lost about half a dozen jobs/boyfriends during the grip of PMS. I very nearly said "
particularly bad PMS
" but then I don't think I've ever had "particularly
good
PMS" to warrant the existence of an opposite.
I do remember once, a guy at work scowling up at me from his desk saying "Are you on drugs or something, because your mood swings are unbelievable?" and I was so gobsmacked that I couldn't even answer. I wasn't. On drugs I mean.
I'm guessing he was referring to my Premenstrual episodes - with which always came the biggest downers of my entire life. Every month. And back in the 80's it wasn't as trendy to go around sharing chronic PMT stories - we were only just getting to grips with having a female prime Minister and tottering about in stilettoes and tight pencil skirts and being all affronted at being leered over by our colleagues - men, mostly.
But I don't think I ever equated the little red ring on the calendar with how appallingly bad everything I thought, said and did became. Ever. It must've been a kind of denial or I was just shocked that... once again I was grouchy, bad-tempered, irritable, touchy, weepy, at time suicidal, and always, always misunderstood. As far as I was concerned, Mum and Dad were right and they really HAD raised a spiteful, selfish bitch of a daughter who wanted everything her own way and was ungrateful and bad tempered about everything. "We just DON'T understand you!" they'd rage. Of course, by the time my period had come and gone (surprise!), they were still bearing the PMS-grudge of how abysmal my behaviour leading up to it had been and I was still in The Cooler. And, a fortnight later, after they'd (almost) forgiven me, the whole PMS-cycle returned and, sadly, this pattern was never broken. It's just a shame it was never discussed. I'm sure everyone would've been a whole lot happier if they'd known the only reason I was acting like shit was because that's how I felt.
Sometimes I'd just shut myself away. I couldn't explain how I felt, so I didn't even try. This was easier when I'd moved away from my parents. Attempting to explain to my mother why I wasn't going into work, whilst all my motor functions were operating normally would've been like trying to explain to Jedward that they have no talent, X or otherwise. As far as she was concerned, if I breathed, I worked. Like it or not. Hormones were some new-fangled fashion that would never catch on; seeking professional help or even support for the raging torments I endured just wasn't an option. And therapy was for the idle, rich and famous.
I have stormed out of two jobs that I recall. "Flounced" is probably a more apt description. (I watched too much 'Dallas' and 'Knots Landing' and clearly thought that Joan Collins was the way to go). And never went back. I certainly changed jobs with alarming regularity (I wish I'd kept a 'red ring' for those times too - for scientific purposes) when I had convinced myself that I just couldn't cope with it anymore. And the more my colleagues saw of my 'moods' the greater the desire to flee and find somewhere new - where nobody knew me and would judge me by my seemingly unstable personality.
Because that's what I assumed it was. I was just a Bad Person. I was hell to live with, hell to work with and so erratic that nobody in their right mind would ever want to be with me for too long. So I kind of decided to save them the bother and the embarrassment of working how to to tell me I was crap; I got out before they got rid. I'm sure I lost a couple of decent jobs/blokes with this perverted course of action. But I didn't know what else to do.
Secretly, even though the pains were severe and I sometimes couldn't even focus straight for the first day, I actually welcomed my period. Because I felt 'normal' then. I was doing what every other woman on the globe did - I was going through a cycle which meant I was behaving like a regular human being and I didn't have to try and disguise or explain why I was looking , acting and feeling the way I was because I didn't understand it myself. This, I understood.
Someone gave me a picture once of some pigs in their sty, and it said "Don't try to understand me - just love me" and although half of me resented the heck out of this because to (paranoid, cynical, probably premenstrual) me it screamed I was "difficult" - the other half made me feel like perhaps I deserved to be taken just the way I am - any day of the month.
So, for the days when I'm displaying the following, I have a nice, harmless alternative:
Weepy = emotional
Angry = determined
Paranoid = sensitive
Tactless = refreshingly honest
Depressed = introspective
And now I believe it's all just part of my 'natural charm'!