Here's what I've been doing:
Reading:
'ROOM'
by Emma Donoghue.
Was fab. Lapped it up like a vanilla milkshake. I didn't like all the 'hype' that surrounded it and got (as always) uber-envious of it's star-studded-status on the top of every list going and mentally refused to acknowledge it for months. Then caved. After all, who am I to judge? What I really loved about it was the way little Jack, who's only ever known Room and Bed and Table and TV and all the other thing in his miniscule world, sees the Outside world. it fair took my breath away with the message it was delivering without making it feel 'heavy'. Completely understand it's well-deserved accolades now and very sorry for having bad thoughts about it initially.
'GONE'
by Michael Grant
One that The Girl said I should read (and who am I to argue?). And again, another that I felt really ambivalent about. Especially considering it's a series of four now, and so I know there's no proper End in sight with the first one. The idea of reading this made it feel heavy and laboured, a bit like picking up the second in the Twilight series. But from the first sentence I was hooked. And that was it - early to bed, late to rise - quite literally Gone - over too soon. I can't wait to read the next one now! In fact, as testament to how good the writing is, the Hubster's actually reading it now and he usually only reads stuff about Fly Fishing or Trout Tickling.
'HOUSE RULES'
by Jodi Picoult
Wow. Just bloody wow. I've never read any of Jodi's books before, although I did see the movie of 'Her Sister's Keeper' and thought it was a pretty decent tear-jerker with a proper twist and I cried at the end.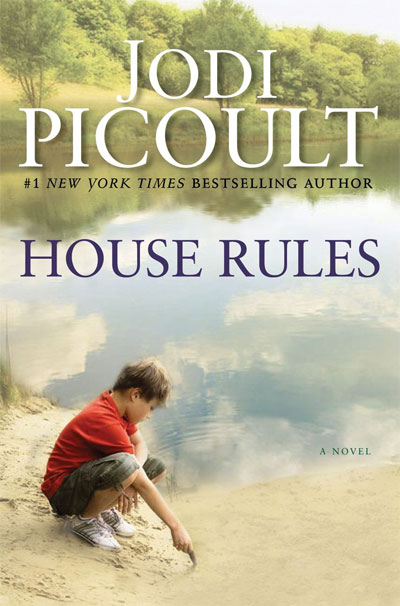 But I was kind of unprepared for the emotions this book stirred in me. In fact, so well was the story told that I didn't just become a member of the Hunt family, I was convinced to the point of completing online questionnaires about being on the autistic spectrum myself. (It turns out my score does indicate a slight sway in that direction and if I'm honest it makes a lot of sense).
It takes a lot for me to fall in love, and to fall in love with a book takes something REALLY special. And I hardly ever want to read books for a second time - House Rules? Only the third to go on a very elit TBRA pile. Everyone should read it. It's an order - and orders are good.
'THE VANISHING ACT OF ESME LENNOX'
by Maggie O'Farrell
I don't know how I came across this. Either a recommendation or a browse through the Amazon listing, as I do. But I'm so very glad I read this. As I've said before, I'm not scared of Historical fiction anymore and this is SUCH a fabulous read that it's made me actually thirst for Historical now.
I can't believe that things like this really happened, even though I've heard about it, of course, and it sort of makes sense of the generation that it's set in - but to be living with one such story of how it takes such energy to unravel a mess from a half a century ago, left me quite emotionally drained - in a good way.
It stirred up feelings of anger on behalf of the eponymous Esme, and I really rooted for her estranged great-niece on whom she'd been unexpectedly foisted. I loved the generation shake-up and expanding my world even further into unknown terrain. I'll definitely be reading more by Maggie O'Farrell.
'THE KITE RUNNER'
by Kahled Hosseini
One of The Girl's A-level reads and another Award-Winner I'd never have read without a small twist of the arm. It kept me up at nights and apart from (little-brained-me) not really understanding much about the area and getting confused with the unfamiliar names, the writing and the evocation of feelings and situations was just stunning. Powerful, beautiful stuff and another book I'm very glad I read. I'm definitely getting 'A Thousand Splendid Suns' next.
Currently I'm reading:
'LIGHT ON SNOW'
by Anita Shreve and LOVING it so much. I'm so happy there are many other's by Anita Shreve I can buy after this.
I'm nothing if not eclectic in my reading, you think?