This is where we holidayed last year.
Il Borro in the beautiful Tuscan countryside. And it was pure five star plus luxury, right from the majestic villa (entrance top pic) to the fabulous family wedding we were a part of.
And although regulars will know of my 'realistic' outlook on most things, I actually had allowed myself a certain
frisson
of excitement leading up to this escape.
Which rhymes with 'mistake'.
In fact, when I twisted off a top of one of the bottles of body lotion I brought back as a 'souvenir' the other day, immediately images of car hire hell, tiny mirror-less bedrooms, flooded toilets, unhealthy amounts of time in gyms, waterless taps, £30 bottles of wine and very shouty voices filled my whole being. I don't know why I've kept them. They're a nightmare in a bottle, is what they are. And the sense of smell is so evocative, isn't it?
But this year nothing like that is going to happen**.
And that's not because I've turned all optimistic overnight - oh no - have you SEEN how much personality transplants cost these days?! It's purely because this year we are spending our time with my husband's parents. The Italian In-laws. In a little place they like to call Ginestra degli schiavoni in the heart of the Italian countryside (there on the right ), 2.8 hours away from Naples airport and miles away from beaches, tourists, bars, restaurants, night life and... well... all major forms of holiday entertainment. Oh, and there's no access to any kind of internet communication, as far as I'm aware.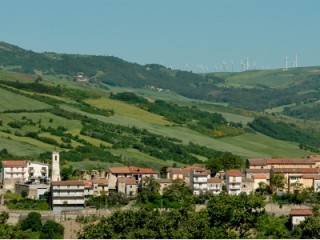 But that's precisely how I want it.
I'm EXPECTING the loos not to flush - hell, we might even be offloading our excess into holes in the floor for all I know - and wiping our arses on yesterday's tabloids. Of course there WON'T be electricity - that's why there's NO internet access.
And when our hire car runs out of petrol, we'll just have to use the friendly neighbourhood donkey (time-shared) to get to the local village bakery.
There'll be trees. There'll be a bed to sleep in. There'll be my incredibly lovely mama-in-law who cooks amazing food, and there'll be my gorgeous husband who is SO excited about showing me where he spent his formative years, and I'll be meeting the extended Riccio family; there's the
'Festa'
which is being held for the week that we're there and I am taking no less than FIVE books with me. That might just be the only English language available to me. Apart from the Hubs, of course.
**we're hoping that the only Bad Thing to happen this year has already happened. When we were looking through our travel documents the other day we noticed we'd booked our car into the mid-term park at Luton Airport.
We fly from Stansted.**