Reading:
The Untied Kingdom by Kate Johnson
I was lucky enough to receive a pre-publication copy of Kate's new book, The Untied Kingdom from publishers Choc Lit, and was delighted to find I CAN read off-genre. In fact I'd find it difficult to put this book into a current genre. it's a book that has EVERYTHING: romance, quirky humour, surrealism, army warfare and actual proper edge-of-seat intrigue. And the hero? Blimey, he's a one-off. I don't generally fall for paper heroes, but for the powerfully delicious Major Harker I made an exception. Phew. If you like your books with a bit of edge and a lot of spark, then this is the one for you.
Small Blue Thing
by Sue Ransom
As we speak, Sue actually has a guest post on the Strictly Writing site where she talks about how Small Blue Thing came about. It's a fascinating story and one which made me gasp, sent shivers up my spine and made me green with envy.
It's certainly made me look at my Blackberry a whole lot differently!
It was such a lovely book to read, and the fact that it's teen supernatural romance set around the Thames and
St. Paul's Cathedral made it feel so much more accessible. Much nicer than all these werewolves and strange place names in American suburbs.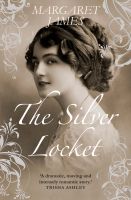 The Silver Locket by Margaret James
As I said, I've been delighted to find I can read off-genre and this historical romance set during the First World War made me very happy. In fact I'm eagerly awaiting Margaret's sequel to The Silver Locket, the Golden Chain and can't wait to find out what's happened to the lovely characters I met in this book. Simply told, easily read and a story that lingers in the mind for ages afterwards - just how a good story should.
Currently, I'm reading
The Glass Painter's Daughter by Rachel Hore
which is an absolute joy to fall onto every night and I know I'm going to get one of those Clare Chamber's moments when I'm going to HAVE to get hold of Rachels' last two books. Some beautiful characters and such lovely evocative prose, it's doing me good and it's even making me seriously consider learning music as another language.
Watching:
Twenty-Twelve

- a fictional-documentary (a "mocu-mentary") about the

'Team' set up to ease us into the Phenomenon which will be the 2012 Olympics.

Led by the ever-present, eternally endearing Hugh Bonneville - who looks FAB on his eco-friendly folding bike and luminous headgear at the start of every episode, and supported by comic genius's at every turn. Last week Team Twenty Twelve spent the entire episode lost on a bus in the middle of London trying to find the Olympic Stadium (where a very impatient

Sebastian Coe awaited their eventual non-arrival). Very funny.
Mrs Brown's Boys - I'm usually suspicious of any new 'sitcom', simply because they invariably end up being shite. And I was even more suspicious of the eponymous Mrs Brown because she's a man in drag. And a gobby, blaspheming Irish man in drag at that. But I am hooked. Okay, so the swearing could be cut down a little, but Mrs Brown is SUCH a character that it'd probably dilute her. This week's episode was such a joy (Grandad faked his own funeral so he got to hear people say nice things about him - who hasn't ever wanted to do this?) and the icing on the cake was a fabulous song-and-dance number at the end. The fact it's filmed before a studio audience and you get to see the out-takes happen live is such a delight.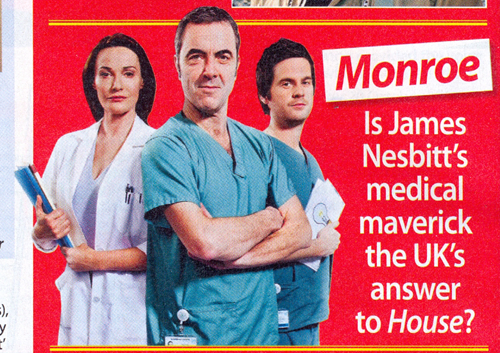 Monroe
- in our house, anything with James Nesbitt in it is an instant hit. He doesn't seem to do anything bad. I even enjoyed his horrible Roman Emperor in the Jesus dramatisation a couple of years ago. And although I find his neurosurgeon character in this new medical 'drama' slightly tongue-in-cheek and a bit fatuous, it is a likeable romp in an operating theatre. And you can't say that about a lot of things on telly these days. I do wish Sarah Parrish would be allowed to smile a bit though, her character's so frosty I'm surprised she's in cardiac and not the morgue.
The Big C -
I don't like a lot of American TV but this one caught my eye when it started a couple of months ago and it's still keeping me entertained so it MUST be good. I've loved Laura Linney ever since she failed to get it on with the very hot, very fit olive-skinned guy in 'Love, Actually' because of her needy brother and in this one, she's equally doomed. This time she's dying of a melanoma. Oliver Platt, who plays her long-suffering estranged husband is a treat and her eco-warrior brother is a joy to behold. The characters are fresh, original and so shockingly honest that I already feel sad that they're not going to be around for a second series (presuming she dies, of course). (Actually, in typical American-melodrama there could of course be a last-minute miracle cure if the viewing figures demand...?)
Writing-wise, I've been subbing this past fortnight and apart from the little sparks of optimism, there's been a lot of rejection. I don't know why I continue to do this to myself. No doubt I'll spring back but I do feel actually, physically hurt this time round.